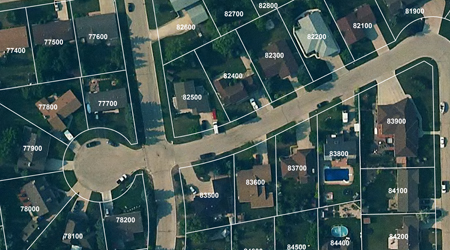 Our Geographical Information Systems (GIS) department specializes in municipal GIS services – in particular, GIS implementation for municipal offices. This includes the mapping of assessment parcels and municipal infrastructure and assets into a central location for easy access to information.
Find out how incorporating GIS can simplify daily tasks and improve workflow efficiency in your municipality. Contact us for more information about our municipal GIS services or to discuss any GIS or mapping related inquiries.
GIS Implementation
We'll manage the transformation of existing systems into TownSuite Mapping, a stand alone application of TownSuite® Municipal Software. In addition, we offer flexible training, along with continued support and maintenance of your GIS data.
Assessment Parcel Mapping
We'll map and maintain your municipality's most important, most dynamic dataset – your assessment parcels. We offer regular uninterrupted updates ensuring that your ever-changing tax base is up to date.
Custom Mapping Solutions
If you have any thoughts about how the incorporation of GIS might improve efficiency in your office – let's talk. We can help with the design and creation of your unique GIS needs. Learn more about some examples of custom mapping solutions. Such as: cemetery mapping, vehicle tracking, lidar digital terrain modling, flood mapping, custom GIS applications.
GPS Data Collection
Our highly skilled and experienced field crews, equipped with the latest GPS technology, will get the job done efficiently – rain or shine. Call today for a quote.