One of the Oldest Land Surveying Firms in Western Canada
Barnes and Duncan Land Surveying and Geomatics (Barnes and Duncan) has operated as a land surveying firm under various names dating back to 1906. The company started in 1906 under the direction of G.B. McColl. This makes it one of the oldest land surveying firms in Western Canada.
S.E.. McColl, the brother of G.B. McColl, joined the firm for a time during the 1920's. G. B. McColl retired in 1952 and sold the firm to K.D. Barnes. The firm name was changed to K.D. Barnes Land Surveyor. K.D. Barnes took on a partner, C.N. Duncan, in 1973 and the firm name was once again changed to Barnes & Duncan. K.D. Barnes passed away prematurely from an accident in 1974 and C.N. Duncan was left to carry on the business alone.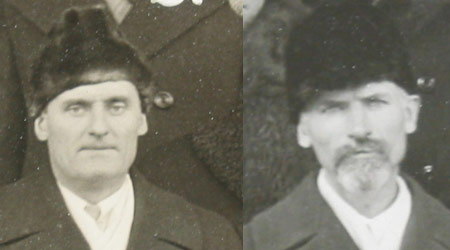 G.B. McColl & S.E. McColl Photo taken at 50th Anniversary of the Association of Manitoba Land Surveyors (1930).
C.N. Duncan retired from the firm in 1998 and the firm was taken over by Christian Korell. Since 1998 the firm has grown considerably and is now an amalgamation of five firms being Barnes & Duncan, Atkinson Surveys, W.A. Beattie & Associates, Michalenko Surveys and Wilson & Neal. As a result, there is a tremendous amount of experience and knowledge within the firm related to Land Surveying and the Geomatics sector in Manitoba.
Barnes & Duncan has offered services in Engineering and Geographic Information Systems (GIS) for several years now, making it truly a multi-disciplinary firm.